Hello August! Already running out of ideas on what meals to prepare for children during the summer break?! As kids will be spending more time at home, it is quite a task for parents to prepare healthy meals everyday for their family. With Wingtat's RWA (raised without the use of antibiotics) Chicken Value Packs stocked up in your freezer, there is endless list of simple, nutritious dishes for your children to enjoy during the summer.


Raised without the use of antibiotics (RWA)
Available in BC and AB at T&T Supermarkets instore
(Wingtat's line of RWA Chicken products is also sold via
T&T Supermarket's Online Store)





For more info on Wingtat RWA Chicken, please click here.

To view our collection of Wingtat RWA Chicken Recipes, please click here.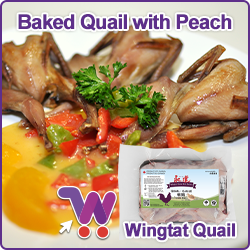 Quails are petite in size, but are great for making various types of dishes. Reputable for nutritious soup-making; quails can also be braised, roasted, pan-fried or prepared on the grill, making very savory dishes. For this dish, quails are marinated in white wine and fresh lemon juice, then they are oven roasted. Pair the roasted quails with sweet fragrant peaches, and sauté the green peppers in jam sauce. Enjoy every little piece of the tender, tasty meat! Kind reminder to pay attention to the oven time to avoid overcooking the meat.



Wingtat shares Instagram pictures of delicious dishes prepared with Wingtat Poultry Products, made by home chefs and IG influencers for everyone to enjoy. Give them a "Like" if it is a dish you would enjoy; and visit our Wingtat Instagram page, www.instagram.com/wingtatcanada and click "Follow" to support and be up to date with Wingtat!

Mini Ramen "Quail" Eggs with Tsukemen

For more recipes shared by our IG community, please visit: https://www.instagram.com/wingtatcanada/tagged/

If you have or sign up for an Instagram account, remember to share photos of your creations to us by tagging @wingtatcanada or #wingtatchicken.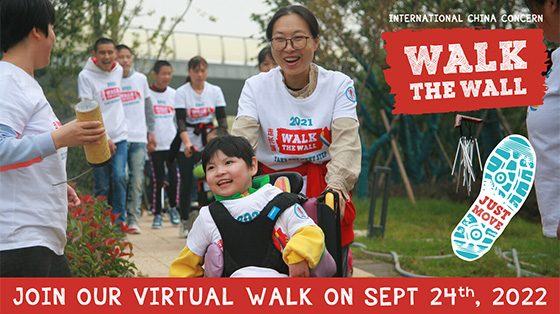 For 15 years we have walked the wall because we believe that it is the right and JUST way to support children with disabilities in China. Our theme, 'Just Move' means we will take action and raise the necessary funds to give children the love, hope and opportunity they need to thrive. Join today to help build a brighter and more JUST future for the children and families we serve.

Wingtat continues our support as Silver Sponsor for "Walk the Wall 2022" event held by International China Concern. By participating in Walk the Wall on September 24, 2022 you are providing life-changing opportunities for thousands of young people.

Walk the Wall Canada 2022 will once again respect the current guidelines regarding large gatherings and encourage participants to walk individually or with a small group in their own cities. While we hope to return to the larger WTW events in the future we know that every person that walks in their community is making a difference in the lives of children in China.
To show your support via donation, please click here:
https://fundrazr.com/campaigns/wtw-canada/pay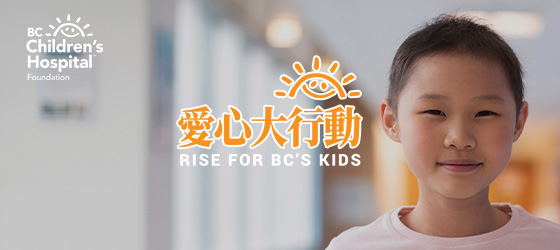 Chinese-Canadian RISE for BC's Kids is a two-day multimedia broadcast coinciding with BC Children's Hospital Foundation's RISE for BC's Kids. Now in its 34th year, the telethon and radiothon was broadcast on Fairchild Television, Fairchild Radio AM1470/FM96.1 and CHBM AM1320 on June 10 and 11, 2022. Every year, the Chinese-Canadian community has demonstrated unwavering support for BC Children's Hospital by raising funds for the most urgent health needs for kids in this province. This year's event has helped raise critical funds that will allow us to continue our quest to conquer childhood cancer.
To make a donation please visit:
https://donate.bcchf.ca/site/Donation2?df_id=1740&mfc_pref=T&1740.donation=form1


Mrs. Chiu's 2022 Recipe Book


For those who had called in during radio-a-thon weekend to AM1320 back in June, for donations of $50, donors will receive a copy of Mrs. Chiu's 2022 Recipe Book. For donations of $100 or more, donors will receive an autographed copy of the recipe book, as a token of appreciation for their support!

Please stay tuned to our eNews later this month for a chance to win Mrs.Chiu's recipe book along with Wingtat Products during Members' Mid-Autumn Festival Lucky Draw!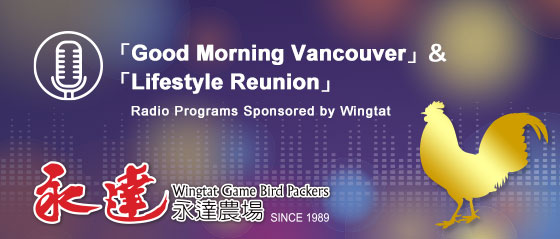 ​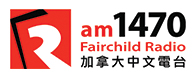 From Monday to Saturday tune in to Wingtat sponsored Radio Program「Good Morning Vancouver」and 「Lifestyle Reunion」 on AM1470.
「Good Morning Vancouver」- Broadcasting Time: Mon-Fri 6am-8am
Start your day with Vancouver's beloved radio and television host William Ho! He brings you the latest news in entertainment, current events, movies, lifestyle, and fantastic music every morning.


​

「Lifestyle Reunion」- Broadcasting Time: Sat 9am-11am
Mrs. Bernice Taam will recommend delicious recipes in "Cooking Up to You" aired in the "Lifestyle Reunion" program.