Wingtat Members'「Year of Ox」Lucky Draw has successfully come to an end!


Winners' List

R. Zhou, #WT108131
Y. Lin, #WT108110

Thank you for every Member who participated; here are some dishes to share:


Fragrant Ching Ping Chicken, #8131

Soy Sauce Chicken, #4614

Silkie Chicken & Loong Kong Chicken with Sea Cucumber, Abalone and Fish Maw, #8201

Chicken with Spicy Bamboo, #8131

Curry Chicken Rice, #8110


| | |
| --- | --- |
| | Starting in March, Wingtat will randomly draw one lucky Member each month to receive a surprise gift! To participate simply complete the entry form before the end of each month. Everyone's kitchen has been busy creating healthy, delicious dishes for their families. Share your ideas and creations with Wingtat & Members for a chance to win a gift. |


Trachea and lungs are both important for us to control breathing. Moisturizing our lungs with healthy soup can help us protect the organ. Silkie Chicken has a black pigment called, melanin, which can enhance immunity. Surely, pure breed Silkie Chicken is more effective and beneficial. Dangshen helps warm up the body. Persimmon can be used for cooking as well as snacking on its own. This soup is not only good for the lungs and the immune system, but it is sweet and has a fruity fragrant; it will surely be enjoyed by your family.
If cooking a whole duck is too large and complicated to handle for a beginner cook, using Wingtat's Duck Thighs will be the perfect choice! Adding shrimp meat will enhance the taste of the dish. Carrot and celery will not only make the dish more colorful, but including vegetables will create a balanced diet. Adding baked pine nuts on top of the cooked meat will increase the aroma of the whole dish. Remember to soak the lettuce in water for the it to be fresh and crisp for eating!
"Collect during fall and save for the winter" is something our ancestors have always said as their traditional wisdom. Long time ago, keeping the food good is not as easy as nowadays. However, our ancestors still have a way to keep the food fresh for later uses. For example, a large amount of fresh, sweet shrimps (with their shells removed) are dried, preserved and saved to cook with other foods. Cooked together with quail, and adding flavors like dried onion and ginger; the dish will be tasty and fragrant to enjoy.

| | |
| --- | --- |
| Mar 13th 2019 Thai-Style Cornish Soup | |
| Mar 8th 2019 Quail Egg and Mung Bean Dessert | |


Wingtat shares Instagram pictures of delicious dishes prepared with Wingtat Poultry Products, made by home chefs and IG influencers for everyone to enjoy. Give them a "Like" if it is a dish you would enjoy; and visit our Wingtat Instagram page, www.instagram.com/wingtatcanada and click "Follow" to support and be up to date with Wingtat!

Cornish Claypot Rice

Chicken Feet Soup with Peanuts and Black-eyed Peas

Braised Chicken with Young Ginger Pickled Plum Sauce

Mouth-watering Chicken

Portuguese Chicken Rice

Silkie Chicken Soup with Abalones

If you have or sign up for an Instagram account, remember to share photos of your creations to us by tagging @wingtatcanada or #wingtatchicken.
---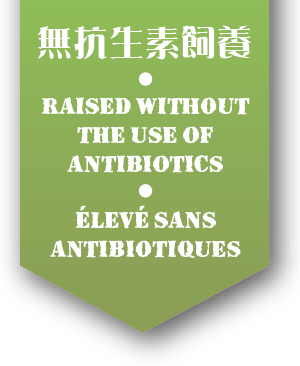 WINGTAT CHICKEN BREASTS

(Boneless, Skinless)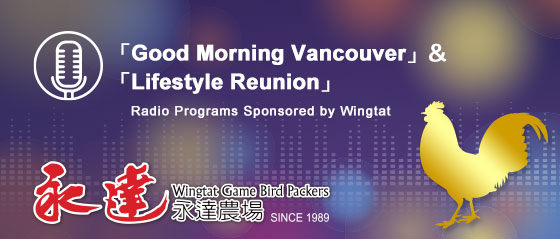 ​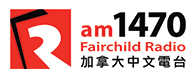 From Monday to Saturday tune in to Wingtat sponsored Radio Program「Good Morning Vancouver」and 「Lifestyle Reunion」 on AM1470.
「Good Morning Vancouver」- Broadcasting Time: Mon-Fri 6am-8am
Start your day with Vancouver's beloved radio and television host William Ho! He brings you the latest news in entertainment, current events, movies, lifestyle, and fantastic music every morning.


​

「Lifestyle Reunion」- Broadcasting Time: Sat 9am-11am
Mrs. Bernice Taam will recommend delicious recipes in "Cooking Up to You" aired in the "Lifestyle Reunion" program.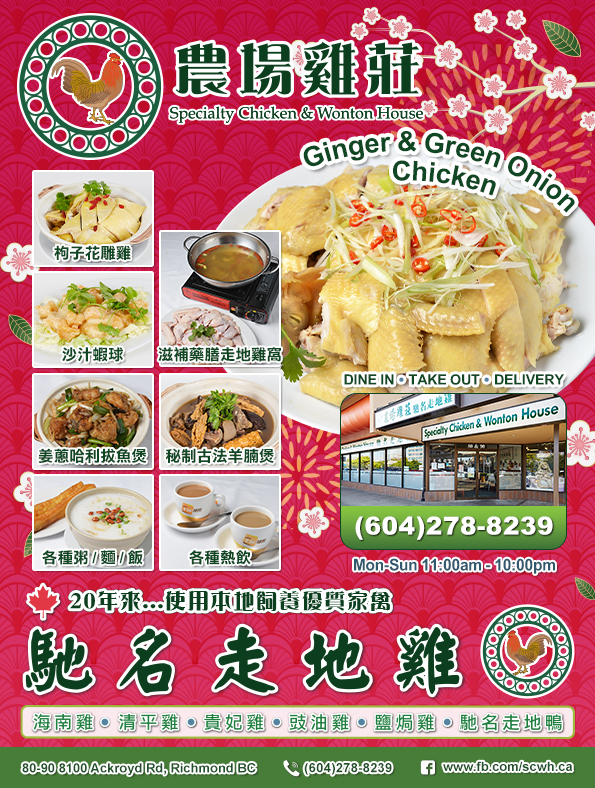 Specialty Chicken & Wonton House is now accepting delivery orders via DoorDash, Uber Eats & Fantuan! Specialty Chicken & Wonton House serves a wide selection of food for both our lunch and dinner guests. From our famous Free run chicken dishes, to congee and noodles in soups, to daily lunch specials and specialty dinner entrées, there is something for both the young and elderly.

For a safe and pleasant dine-in or take-out experience for our customers, staff and delivery vendors, please be mindful of social distancing measures in place. Let's continue to stay safe, stay healthy and be kind. Please note our amended hours of operation: 11:00am - 10:00pm, Mon-Sun.



Upon show of Wingtat Membership Card, Members enjoy 10% discount on dine-in orders and take out orders (pick up order in person). Specialty Chicken & Wonton House Gift Certificates cannot be used in conjunction with membership discount; membership discount does not apply to any items under $10, and does not apply to orders via DoorDash, Uber Eats and Fantuan.

Should you have any questions or would like to place take out order, please call:
(604) 278-8239.

Click here to view Menu