To celebrate a very festive time of the year, 12 participating Members will be randomly selected, each of whom will receive Wingtat's Gift Set that includes at least two items listed: Wingtat Chicken Potstickers, Wingtat RWA Chicken Value Pack, Wingtat Cornish Hen, Wingtat 2023 Year of the Rabbit Calendar (1 set). Beginning Dec. 7th until Dec.18th, Wingtat will draw one lucky Member each day.

Please click on the【Enter Lucky Draw】button to participate and submit your completed entry form by December 18th. Winning Members will be contacted by phone to arrange for pickup of their gifts on either Dec. 22nd or Dec. 29th. Winning Members are reminded to bring their Wingtat Membership Card and a mask wearing is required upon entering our office to claim their prizes.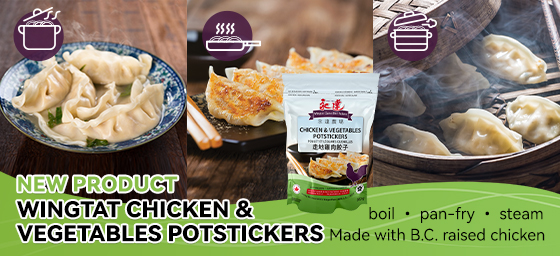 Such warm, cozy vibes when enjoying potstickers on a cold Winter day! Try our new product: Wingtat Chicken & Vegetable Potstickers! That's right! We finally have potstickers we can call our own — filled with BC's Wingtat Chicken meat (Wingtat Taiwanese Chicken meat). We are delighted and honored for the opportunity to pair our signature chicken with potstickers ; simple food that families enjoy as a quick snack, appetizer or prepared as a meal! Boil in your favorite chicken broth then add some veggies, or if you desire them with a crisp & crunch factor, then pan-fry or air-fry is the way to go; don't forget to drizzle some chili oil on top. Or simply steam the potstickers and dip lightly into your custom mix of soy sauce. Please continue to support our local poultry and food manufacturing sectors in British Columbia.

Wingtat Chicken & Vegetables Potstickers can be purchased at the following locations:


Happy Farm Market (Vancouver)
Teng's Market (Vancouver)
Jumbo Supermarket (Burnaby)
King's Market (Burnaby)
Nanyang Supermarket (Surrey)
New Pacific Supermarket (Coquitlam)

Rice World Supermarket (Richmond)
Blundell Market (Richmond)
Happy House Fresh Taste Meats (Richmond)
Luniu Market (Richmond)
New Empire Supermarket (New 2000) (Richmond)
2000 Supermarket (Richmond)




Participate in our「Christmas HO HO HO Lucky Draw」, for a chance to win Wingtat Chicken & Vegetables Potstickers to try!

As the weather gets cooler in the Winter, preparing a warm and healthy meal with Wingtat RWA (raised without the use of antibiotics) Chicken Value Packs is easier than ever. Pair our chicken with Autumn's harvest produce. Conveniently packaged and easy to prepare, there is endless list of simple, nutritious meals for you and your family to enjoy everyday.


Raised without the use of antibiotics (RWA)
Available in BC and AB at T&T Supermarkets instore
(Wingtat's line of RWA Chicken products is also sold via
T&T Supermarket's Online Store)



For more info on Wingtat RWA Chicken, please click here.

To view our collection of Wingtat RWA Chicken Recipes, please click here.

Partridge is a game bird known for its therapeutic value. It is good for trachea and the whole respiratory system. This soup is nourishing and restorative in the Fall while the air is dry. Fritillaria and sea coconut added in the soup can further enhance its therapeutic effects. The figs and dried tangerine peel make this soup fragrant and delicious, and the whole family can enjoy it.


People tend to have itchy throat or occasional cough during autumn and winter seasons due to the dry weather condition. One of the best ways to alleviate these symptoms is to have some homestyle soups. This soup recipe contains quail that is delicious yet nutritious, sea coconut and apricot kernels are good for keeping the lungs healthy, and pear is especially suitable for autumn and winter season. According to "本草通玄", an ancient Chinese herbal encyclopedia, pear can help nourish our lungs. This soup is suitable for all members in the family and is a must try during autumn and winter.

To view our collection of Autumn Soup Recipes, please click here.


Wingtat shares Instagram pictures of delicious dishes prepared with Wingtat Poultry Products, made by home chefs and IG influencers for everyone to enjoy. Give them a "Like" if it is a dish you would enjoy; and visit our Wingtat Instagram page, www.instagram.com/wingtatcanada and click "Follow" to support and be up to date with Wingtat!

Easy Chinese Air Fryer Soy Sauce Chicken Thighs
Content Creator: @instanomss

For more recipes shared by our IG community, please visit: https://www.instagram.com/wingtatcanada/tagged/

If you have or sign up for an Instagram account, remember to share photos of your creations to us by tagging @wingtatcanada or #wingtatchicken.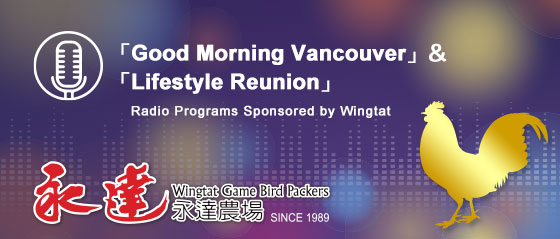 ​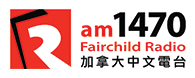 From Monday to Saturday tune in to Wingtat sponsored Radio Program「Good Morning Vancouver」and 「Lifestyle Reunion」 on AM1470.
「Good Morning Vancouver」- Broadcasting Time: Mon-Fri 6am-8am
Start your day with Vancouver's beloved radio and television host William Ho! He brings you the latest news in entertainment, current events, movies, lifestyle, and fantastic music every morning.


​

「Lifestyle Reunion」- Broadcasting Time: Sat 9am-11am
Mrs. Bernice Taam will recommend delicious recipes in "Cooking Up to You" aired in the "Lifestyle Reunion" program.


Winter Warm Wave, Fairchild Radio's signature charity project, has officially kicked off on Nov 19, 2022 and will last until Jan 3, 2023. Bring your unwanted clothing items, beddings, books, toys and other household items to the collection locations below, Salvation Army will make use of them to bring joy to the people in need.

On December 17 (Saturday) from 12pm to 4pm, a collection booth will be set up outside the AM1470 radio station at Aberdeen Centre. Anyone who donates 5 pounds or more of used clothes will receive a pair of Shake Shake warm bags. Each person is limited to one, first come first served, while supplies last. On that day, 2022 Little Sunshine contestants will also serve as a small volunteers in helping out the event.
For more information, please refer to:
AM1470 Winter Warm Wave 2022