Wingtat Members'「Mid-Autumn Lucky Draw」has successfully come to an end; all gifts have been received by our winning Members on Thursday Sept. 15th and Friday Sept. 16th. Thanks to all our Members for your participation!

Winners' List

T. Wong, #WT105233
T.C. Chong, #WT108251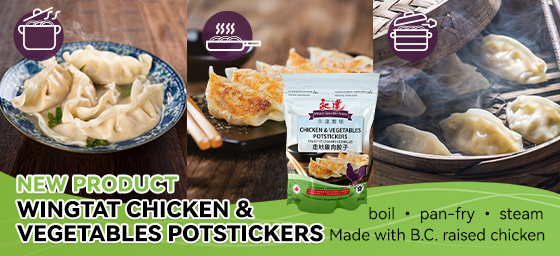 We are proud to launch our new product: Wingtat Chicken & Vegetable Potstickers! That's right! We finally have potstickers we can call our own — filled with BC's Wingtat Chicken meat (Wingtat Taiwanese Chicken meat). We are delighted and honored for the opportunity to pair our signature chicken with potstickers ; simple food that families enjoy as a quick snack, appetizer or prepared as a meal! Boil in your favorite broth then add some veggies, or if you desire them with a crisp & crunch factor, then pan-fry is the way to go; don't forget to drizzle some chili oil on top. Or simply steam the potstickers and dip lightly into your custom mix of soy sauce, sesame oil, ginger, etc. Our chicken potstickers are made locally in British Columbia.

Wingtat Chicken & Vegetables Potstickers can be purchased at the following locations:


Happy Farm Market (Vancouver)
Teng's Market (Vancouver)
Jumbo Supermarket (Burnaby)
King's Market (Burnaby)
Nanyang Supermarket (Surrey)
New Pacific Supermarket (Coquitlam)

Rice World Supermarket (Richmond)
Blundell Market (Richmond)
Happy House Fresh Taste Meats (Richmond)
Luniu Market (Richmond)
New Empire Supermarket (New 2000) (Richmond)
2000 Supermarket (Richmond)

As the weather gets cooler in the Autumn, preparing a warm and healthy meal with Wingtat RWA (raised without the use of antibiotics) Chicken Value Packs is easier than ever. Pair our chicken with Autumn's harvest produce. Conveniently packaged and easy to prepare, there is endless list of simple, nutritious meals for you and your family to enjoy everyday.


Raised without the use of antibiotics (RWA)
Available in BC and AB at T&T Supermarkets instore
(Wingtat's line of RWA Chicken products is also sold via
T&T Supermarket's Online Store)



For more info on Wingtat RWA Chicken, please click here.

To view our collection of Wingtat RWA Chicken Recipes, please click here.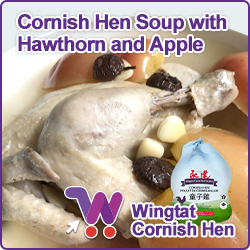 Autumn is the best season to harvest apples. In addition to the old saying "an apple a day keeps the doctor away", we can also make great use of apples as an ingredient in making wholesome soups for your family. Apple is a fundamental source of high-quality pectin, a water-soluble fiber that lowers blood sugar and cholesterol, while also helps the body's absorption of iron and folic acid. Hawthorn tastes slightly sour but can increase appetite, clear body fat and detoxify the body. South almonds are sweet and can nourish the lungs and eliminate phlegm. The size of Cornish Hen is ideal for making this tasty chicken broth. A bowl of slightly sweet flavored soup with aroma of both fruit and chicken meat is perfect to welcome the cooler Autumn season.


To view our collection of Autumn Soup Recipes ,please click here。


Wingtat shares Instagram pictures of delicious dishes prepared with Wingtat Poultry Products, made by home chefs and IG influencers for everyone to enjoy. Give them a "Like" if it is a dish you would enjoy; and visit our Wingtat Instagram page, www.instagram.com/wingtatcanada and click "Follow" to support and be up to date with Wingtat!

Loong Kong Chicken Leg Claypot Rice

For more recipes shared by our IG community, please visit: https://www.instagram.com/wingtatcanada/tagged/

If you have or sign up for an Instagram account, remember to share photos of your creations to us by tagging @wingtatcanada or #wingtatchicken.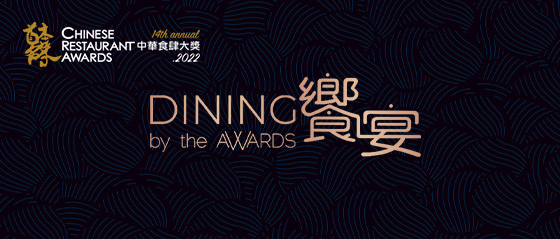 Wingtat participated as Silver Sponsor for Chinese Restaurant Awards' "DINING by the Awards" 2022, which hosted 2 dining events in August and September. This event invited 2 "New Wave" culinary artists, Lucas Sin and Eva Chin in collaboration with our local chefs in Vancouver. The early September session with Vancouver's Cantonese Cuisine Master Chef, the new wave chefs created a night to remember for diners to taste the depth of Cantonese cuisine at Regal Mansion Cuisine. They prepared an eight-course tasting menu with wine pairing to share their understanding of the diversity of Chinese culinary cultures, and their passion and vision for Chinese cuisines. One of their highlighted dish is "Wingtat Loong Kong Chicken stuffed with Chinese Sausage, Chicken Fat Sauce Supreme and Yunnan Golden Tip Infused".
Event Highlights: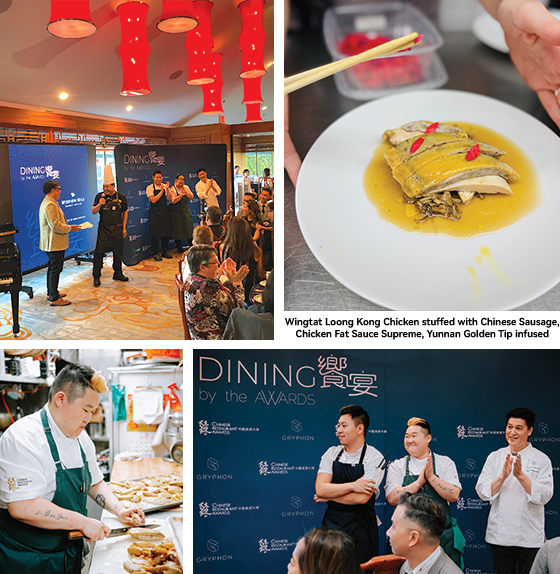 For more event photos, please visit: https://www.instagram.com/p/CiJ8hE0OCS0/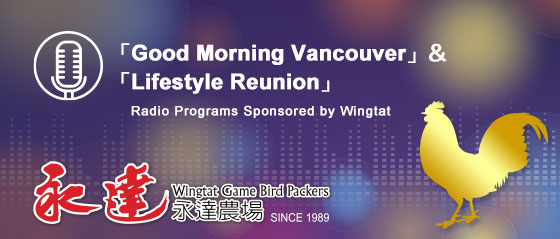 ​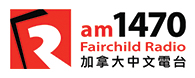 From Monday to Saturday tune in to Wingtat sponsored Radio Program「Good Morning Vancouver」and 「Lifestyle Reunion」 on AM1470.
「Good Morning Vancouver」- Broadcasting Time: Mon-Fri 6am-8am
Start your day with Vancouver's beloved radio and television host William Ho! He brings you the latest news in entertainment, current events, movies, lifestyle, and fantastic music every morning.


​

「Lifestyle Reunion」- Broadcasting Time: Sat 9am-11am
Mrs. Bernice Taam will recommend delicious recipes in "Cooking Up to You" aired in the "Lifestyle Reunion" program.