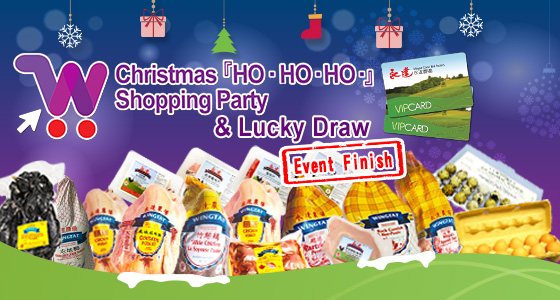 Wingtat Members' 「HO・HO・HO」Shopping Party & Lucky Draw has successfully come to an end.
Congratulations to the winning Members:
| | | | | | | |
| --- | --- | --- | --- | --- | --- | --- |
| | | Susanna Char | #103882 | | Amy Lai | #107333 |
| | | Francine Ngo | #108190 | | Shirley Li | #108194 |
| | | Pui Chuen Sum | #108041 | | | |
| | |
| --- | --- |
| | Please Note: After the conclusion of yesterday's busy Shopping Party, we realized we had labelled our Wingtat Taiwanese Chicken - Family Value Packs with the incorrect "Best Before Date". The date label shows 2016 but it should be December 2018. We apologize for any inconveniece and/or confusion caused. For Members who ordered Taiwanese Chicken - Family Value Packs, our customer service representative has already contacted you on the day of to inform you of the incorrect labelling and assist you with your order.We appreciate your understanding on this matter and we will continue to further improve your Shopping Party experience in the coming New Year! Thanks to all our Members for your wonderful support in 2017! |

Online Store's Top 3 Favourites:
First Place: The honourable position of first place for last month is the Wingtat Silkie Chicken. Our Silkie Chicken is popular as eating Silkie can help improve beauty, health and blood circulation. It also strengthens and restores vital energy, treats disorders of the liver, relieves sickness, eliminates fatigue, relieves menstruation symptoms etc. Please note that lately there is wider selection of Silkie Chicken available for consumers to purchase at supermarkets. We would like to remind our loyal consumers that our company is a federal establishment and all our poultry is inspected by the inspectors of Canada Food Inspection Agency. Our Wingtat Silkie is of purest breed and is deep purple black in skin colour. When you purchase our Wingtat branded Silkie Chicken, you are buying the assurance of quality and food safety.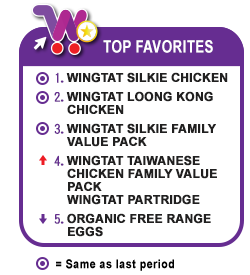 Second Place: Wingtat Loong Kong Chicken run close to the Wingtat Silkie Chicken, acquiring a second place this month. All Wingtat Free Run Loong Kong Chicken is raised in healthy and natural environment of Wingtat's Farms in British Columbia. Because of its thicker meat and layer of fat beneath the skin, it is ideal for deep-frying and roasting, which gives you a gorgeous golden color.
Third Place: Claiming third is our Wingtat Silkie Chicken - Family Value Pack. At home, silkie is used as a main ingredient in healthy soups. Afterwards, the tender silkie meat can be removed from the soup and served simply with some soya sauce. Silkie Chicken Family Value Pack contains two Wingtat Silkie Chickens; this product is great value and does not take up as much freezer space as Silkie Chicken by the case.
For more information about our online store, click here.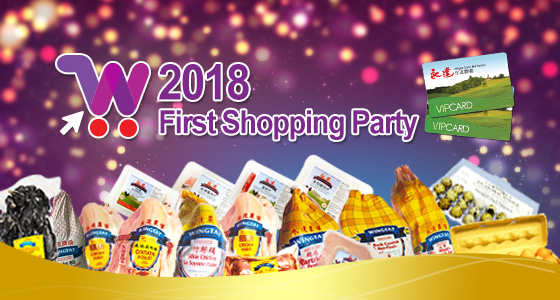 Please stay tuned in January for more shopping party details and product offers!

Order Start Date:

Friday, January 12th

Order Deadline:

Sunday, February 4th.


(Sunday before the pick-up date)

Payment & Order Pick-up Date:
Thursday, February 8th.
(Time: 1:00pm - 4:00pm)

Harvesting in the Autumn and stocking up in the Winter is a natural flow for agriculture-based communities. Winter Solstice is a time of thanksgiving for harvest, and farmers can rest and enjoy the season with their families. Families will prepare delicious dishes to share and enjoy together with the family. The saying goes, "Winter Solstice is more important than the New Year", so it is most ideal to have a chicken dish prepared for family feast on that day. Canada Chicken meat is tasty and smooth, and the chicken breast is rich in Vitamin B. Placed over the soft and delicious glutinous rice, this dish will add great warmth to the cold winter!

Wingtat Canada Chicken
(7 CHICKENS PER CASE, PRODUCT IS FROZEN)
Wingtat Members' Price: $70 / CASE
Times of celebration always involves food; families would enjoy a great meal together. Poultry, chickens and ducks, play a major role in the meal and familes feel very blessed to enjoy the food. The tender meat of free run duck legs are stewed with the winter-seasonal mustard, ginger and longan fruit. The fragrance of the meat cooked with the vegetable will increase your appetite!

Wingtat Duck Legs
(4 PCS PER PACK, PRODUCT IS FROZEN)
Wingtat Members' Price: $15 / PACK
Many guests will arrive earlier at holiday parties with time to mingle and catch up, while children enjoy some playtime before dinner. The host family will have appetizers prepared. This pie consists: tender and smooth Cornish chicken meat, purple sweet potato that is rich in antioxidant and also improves intestinal health, and the golden millet which can supplement the nutrients needed for cell growth, together with organic free range eggs that are rich in protein. The pie is colourful in appearance and can be prepared in advance. It is an ideal appetizer for a gathering during the holidays.

Wingtat Cornish Hen
(12 CHICKENS PER CASE, PRODUCT IS FROZEN)
Wingtat Members' Price: $85 / CASE
Roasted Turkey or ham are commonly served as main courses during holiday parties with large group of people. But if you have a small party of guests, this pan-fried duck breast dish will make your guests feel extra special and honored. Wingtat's Duck Breasts are juicy, tender and very easy to cook. Firstly, fry the duck skin to release the oil. Then, reverse to fry the meat. Afterwards, you can turn off the heat and let the temperature cook the breasts for a while. The salad and sauce is then prepared. A beginner's chef will enjoy making this dish for his or her dinner guests.

Wingtat Duck Breast
(2 PCS PER PACK, PRODUCT IS FROZEN)
Wingtat Members' Price: $15 / PACK
Nice is a city in southern France with adequate sunshine and beautiful views, making it a famous tourist destination. Nice salad is a favorite dish among local cuisines, as popular as Waldorf salad. Wingtat Taiwanese Chicken is known for its lean meat. Together with the slightly sour olives and cherry tomatoes, the dish is colorful.

Wingtat Taiwanese Chicken
(7 CHICKENS PER CASE, PRODUCT IS FROZEN)
Wingtat Members' Price: $70 / CASE
Guests look forward to the dessert course after their meal. The cashew egg roll (crepe) is a simple and healthy dessert to prepare. Organic eggs is a good source of protein. It is not only fragrant but also beneficial to liver cells and moisturizes the skin. Nuts are rich in calcium. The key to success preparation of this dessert is to be patient. Remember to add water gradually and slowly into the powder to achieve smooth batter.

Organic Free Range Eggs
(1 Set = 5 BOXES, 1 DOZEN PER BOX)
Wingtat Members' Price: $25 / SET ($5 / box)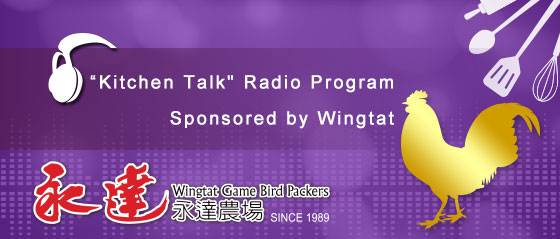 Monday to Friday at 10:30 am, stay tuned for the Wingtat-sponsored AM1320 Radio Program "Kitchen Talk", Mrs. Chiu will recommend numerous delicious recipes for you!
Click on the dates to listen to broadcast sessions:
Note: Stay tuned for Wingtat's Radio Game Segment Program starting in the new year
on Jan 24th, hosted by Mrs. Chiu.
This holiday season, Specialty Chicken & Wonton House features Herbal Chicken Hotpot and Bean Curd with Lamb Brisket Hotpot, and Halibut Pot with Ginger and Scallion which are perfect for the warm and comfortable Winter Solstice dinner (December 22nd) and Christmas dinner! SCWH serves a wide selection of food for both our lunch and dinner guests. From our famous Free range chicken dishes, to congee and noodles in soups, to daily lunch specials and specialty dinner entrées, there is something for both the young and elderly. Wingtat Members enjoy 10% OFF dine-in and take out orders. (Specialty Chicken & Wonton House Gift Certificates cannot be used in conjuction with Wingtat Members' 10% discount; membership discount does not apply to dishes under $10, snacks and/or drinks.)
Please call in advance to make reservation. To make reservation, please call:
(604) 278-8239