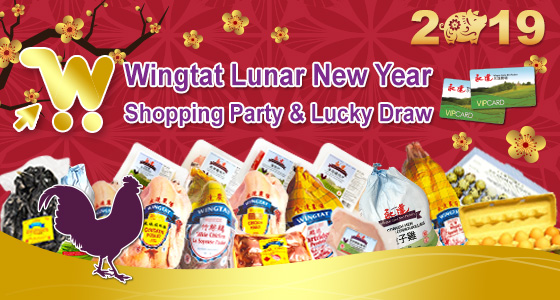 Wishing Wingtat Members a Happy Year of the Gold Pig, enjoying good health and happiness throughout the year!

It's definitely not a celebration nor feast without chicken. This month, Members will receive their Wingtat Products on January 31st before Chinese New Year (February 5th). This month is a good time to stock up on your favorite Wingtat Products for your family's lunar year reunion dinners. Please also note that the next shopping party after Lunar New Year won't be hosted until Springtime.

Order Start Date:

Friday, January 11th

Order Deadline:

Sunday, January 27th


(Sunday before the pick-up date)

Payment & Order Pick-up Date:
Thursday, January 31st
(Time: 1:00pm-4:00pm)
(The last Thursday of the month) In time for CNY.
*Lunar New Year 2019: Tuesday, February 5

Effective December 2018, to reduce the use of plastic bags, Wingtat will not be providing bags during our Shopping Parties. We recommend Members to bring their own bags (strong, heavy duty ones) to carry individually packed frozen Wingtat Products. Should you require our heavy duty plastic bag(s) to bag your products, Wingtat will be collecting a 10-cent fee per bag.

With every $50 of products ordered from Wingtat Members' Lunar New Year Shopping Party, Members will receive one automatic entry into the lucky draw. Buy More, Win More! 2 Winning Members will receive one

Charity Gold Pig

and one

$25 Specialty Chicken & Wonton House Gift Certificate

.
With minimum order of $128, Member will receive one

Wingtat 30th Anniversary Thermal Insulated Tote

(large size) –a bag to help maintain the temperature of its contents, keeping cold items cold, and hot items hot. One gift per Member only; while supplies last. GIFT CODE: WT19CNY
Wingtat Cornish Hen (C12)


(Product is frozen)

$85/case

, 12 chickens per case
Receive one

$25 Wingtat Membership Card Gift Voucher

with every 1 case of Wingtat Cornish Hen ordered. Note: cannot be redeemed on day of Shopping Party

Wingtat Young Duck Case (C7)


(Product is frozen)

$90/case

, 7 pcs/ case
Receive one

$5 Wingtat Bonus Cash

with every 1 case of Wingtat Young Duck ordered

Wingtat Duck Bones


(Product is frozen)

$10/pack

, 2 pcs per pack


Buy one, Get one FREE!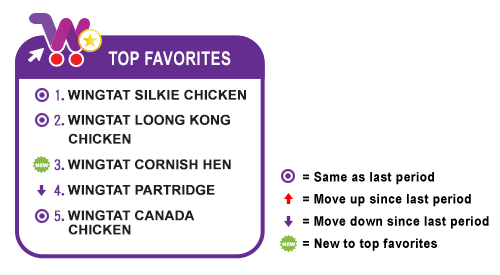 For more information about our online store, click here.

Whether it is the reunion dinner held on the eve of New Yeaer or the dinner held at the kickstart of New Year, every family appreciates a whole chicken with golden skin and tender meat... Wingtat's Loong Kong Chicken would be perfect for this dish. In Asia, the gold beancurd sheets signify abundance, and the tender clam meat symbolize fortune and prosperity. After pan-frying the beancurd sheets, the sauce of the chicken, clam meat, garlic and fermented beancurd, together with red pepper, can be drizzle onto the chicken, then this tasty dish is ready to serve!

WINGTAT LOONG KONG CHICKEN (P7)


7 CHICKENS PER CASE (PRODUCT IS FROZEN)


Wingtat Members' Price: $80 / CASE

Bamboo Fungus, known as the "king" of all fungus, is not only a popular ingredient among vegetarians, but also a great ingredient for various non-vegetarian dishes. It is rich in protein and multi amino acids which helps you lose belly fat. Tender Loong Kong Chicken Thigh and bamboo fungus, together with new year essentials such as mushroom and crispy asparagus, make it a fragrant dish. Add in some wolfberries makes it a perfect lunar new year dish for the entire family to enjoy!
Illustrators often create cute, fat round images of pigs to express abundance in blessings and properity. Preparing traditional hokkien noodle with sliced pork is very fitting in celebrating the Year of Pig. The sliced pork is boneless and skinless with minimal fat; pan-frying the pork with simple marinated sauce, combining with egg noodles and rice noodles, and adding red shrimp and yellow egg, the delicious noodle dish is ready to serve!

WINGTAT SLICED PORK


1 Set = 4 Boxes Sliced Pork (PRODUCT IS FROZEN)


Wingtat Members' Price: $20 / 1 Set, 2 Sets (save $5), 3 Sets (save $10)

Imitation shark fin soup has always been a popular with both young and old, which uses substitutes to replicate shark fins' chewy, gelatinous texture. During the lunar new year season, a simplified sliced chicken soup could be an alternative choice as well. The tender Wingtat chicken meat brings sweetness to the soup. Black fungus contains special plant collagen which can promote food excretion for a healthier body! Together with egg swirl, makes the soup smoother to drink!
Sticky rice adds great warmth and comfort to the cold winter. During the lunar new year season, pan-fried rice cake and hot tea are also essential for welcoming guests. However, a golden sticky rice roll with chicken would be even more impressive and welcoming. The sticky rice with mushroom and shrimp together with pan-fried chicken fillets in the middle, makes for a roll that is with crispy beancurd on the outside, and soft sticky rice and chicken on the inside; this lunar new year dish is delicious.

WINGTAT CANADA CHICKEN (P7)


7 CHICKENS PER CASE (PRODUCT IS FROZEN)


Wingtat Members' Price: $80 / CASE

​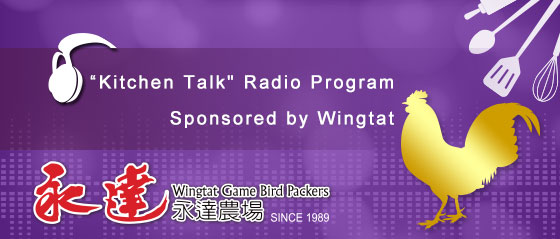 Monday to Friday at 10:30 am, stay tuned for the Wingtat-sponsored AM1320 Radio Program "Kitchen Talk", Mrs. Chiu will recommend numerous delicious recipes for you!
Click on the dates to listen to previous month's broadcast sessions. This radio program is broadcasted in Cantonese.
Dec 26th Partridge Soup
Dec 12th Beet Braised Chicken Fillets with Spaghetti
Dec 4th Honey Sauteed Duck Breast with Vegetables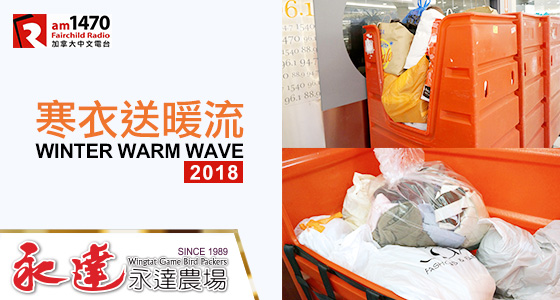 Winter Warm Wave, Fairchild Radio's signature charity project, kicked off last month. Salvation Army will make use of donated clothes and jackets to bring joy and warmth to people in need. Wingtat is honored to be one of the sponsors and this is one of the various ways that Wingtat is reaching out to the community.
Click here for more info:
https://www.am1470.com/hot_topics_detail.php?i=4038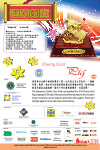 The Vancouver Cambie Lions Club has launched the 2019 Charity Gold Pig Campaign. Net proceeds will be donated to the Canadian Cancer Society for cancer research, prevention and support. Wingtat started sponsoring and supporting VCLC's charity campaign back in 2005 as Title Sponsor. Each and every year after, Wingtat has continued the support and sponsoring this event. Please join us in the fight against cancer and make cancer history.
If you want to know more information or you would like to donate to Canadian Cancer Society, please click the link:
http://www.cancer.ca/en/get-involved/support-us/asian-giving-bc/?region=bc