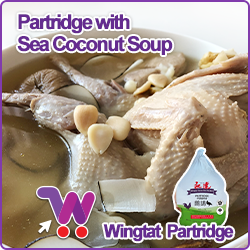 A good way to stay healthy and well is to eat the respective produce that is available during each season and its temperature climate. Chinese Medicinal diet is the use of the medical benefits of different health foods and combine them to create a delicious, nourishing dish. During the colder seasons, it is fitting to improve the respiratory system. Partridge is an ideal, complementing ingredient. In《Compendium of Materia Medica》, it is said that "Partridge meat is white and crisp, better than chicken". The book also points out that Partridge is high in nutritional values; the meat is more tender and has more flavour than chicken. Sichuan fritillary bulbs help prevent coughing, Solomon's Seal Root slices and sea coconut help hydrate the throat and lungs, while sweet apricot kernels help nourish the skin and lungs, and improve digestion. Figs are rich in amino acid and will make the soup sweet and nourishing.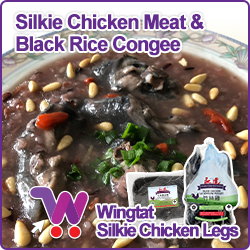 Wingtat Silkie Chicken Legs is an ideal ingredient for this nutritious congee. Simple to prepare and the legs contain less fat. Black rice and glutinous rice have complementary effects. Black rice is naturally nourishing; it is a great source of iron and nourishes the blood. Combined with glutinous rice, the congee is smooth and nourishing to the spleen. Making the congee with silkie chicken meat creates a distinct sweetness and taste. Goji berries nourish the eyes and roasted, aromatic pine nuts will make this healthy congee a craved bowl of goodness! This recipe is also beneficial for new moms to absorb nutrients and iron in their daily meals during their postnatal care; this delicious congee offers comfort, warmth and nutrition.


| | |
| --- | --- |
| Nov 14th 2018 - Taiwanese Chicken & Pad Thai | |
| Nov 7th 2018 - Loong Kong Chicken Bibimbap | |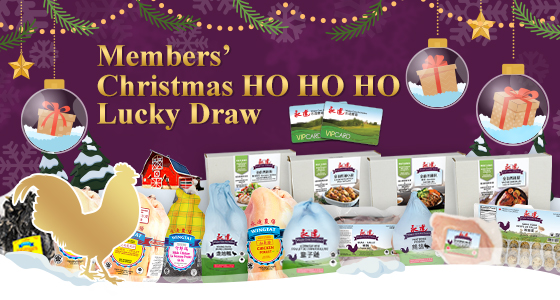 More details on upcoming Wingtat Members'「HO HO HO Gift Draw」will be coming soon on later in November, please stay tuned!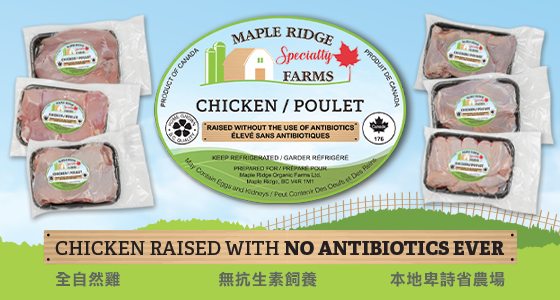 Wingtat's Maple Ridge Specialty Farms Chicken
(Raised Without the Use of Antibiotics)

Enjoying our thirtieth year milestone since we first established in 1989, Wingtat's Maple Ridge Specialty Farms Chicken is our premium line and brand which we introduced to our consumers in 2019. This line of poultry is raised without the use of antibiotics (RWA). They are not given any antibiotics in their feed, water or by injection. Like all our Wingtat-branded poultry, our free-run birds are B.C. farm grown, raised in large, well maintained barns with ample space to freely roam around. They have constant access to fresh, clean drinking water and they enjoy a well balanced, Canadian whole grain diet. To maintain the quality, flavour and texture of the chicken meat, our birds are air chilled. Wingtat Game Bird Packers is a federal meat processing establishment; our products are HACCP certified and food safety remains our top priority from our initial start.

Sold at Pricesmart Foods in Richmond & Burnaby.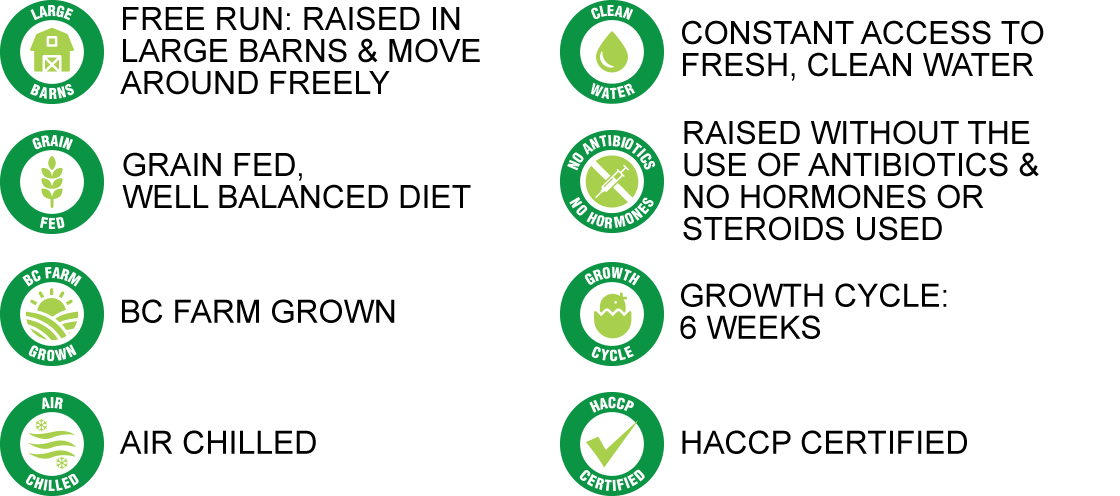 Wingtat shares Instagram pictures of delicious dishes prepared with Wingtat Poultry Products, made by home chefs and IG influencers for everyone to enjoy. Give them a "Like" if it is a dish you would enjoy; and visit our Wingtat Instagram page, www.instagram.com/wingtatcanada and click "Follow" to support and be up to date with Wingtat!

Pan Seared Quails with Veggies

For more recipes shared by our IG community, please visit: https://www.instagram.com/wingtatcanada/tagged/

If you have or sign up for an Instagram account, remember to share photos of your creations to us by tagging @wingtatcanada or #wingtatchicken.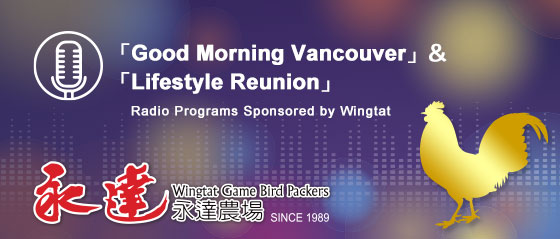 ​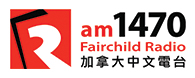 From Monday to Saturday tune in to Wingtat sponsored Radio Program「Good Morning Vancouver」and 「Lifestyle Reunion」 on AM1470.
「Good Morning Vancouver」- Broadcasting Time: Mon-Fri 6am-8am
Start your day with Vancouver's beloved radio and television host William Ho! He brings you the latest news in entertainment, current events, movies, lifestyle, and fantastic music every morning.


​

「Lifestyle Reunion」- Broadcasting Time: Sat 9am-11am
Mrs. Bernice Taam will recommend delicious recipes in "Cooking Up to You" aired in the "Lifestyle Reunion" program.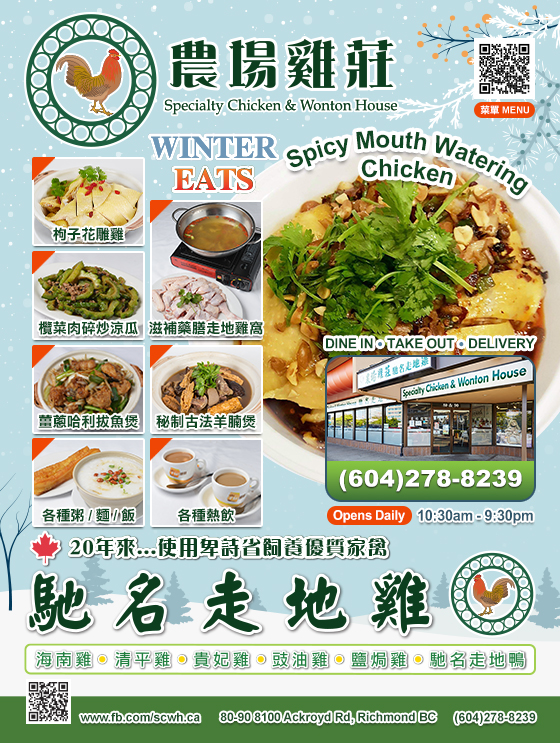 Specialty Chicken & Wonton House serves a wide selection of food for both our lunch and dinner guests. From our famous Free Run Chicken dishes, to congee and noodles in soups, to daily lunch specials and specialty dinner entrées, there is something for both the young and elderly.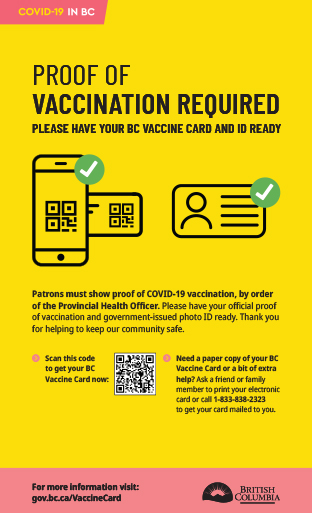 By order of the Provincial Health Officer (PHO), BC vaccination card and a government issued identification are required to enter licensed restaurants and restaurants that offer table service (indoor and patio dining). Diners have to be fully vaccinated with two doses of a COVID-19 vaccine. The requirement is in place until January 31st, 2022 and could be extended. SCWH will continue to provide takeout service (self-pickup) and customers can place orders through the Fantuan / DoorDash / Uber Eats delivery platform. Business hours are 10:30am-9:30pm every day. Thank you once again for your support!



Upon show of Wingtat Membership Card, Members enjoy 10% discount on take out orders (pick up order in person). Specialty Chicken & Wonton House Gift Certificates cannot be used in conjunction with membership discount; membership discount does not apply to any items under $10, and does not apply to delivery orders.

Should you have any questions or would like to place take out order, please call:
(604) 278-8239.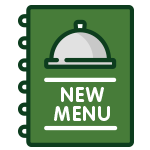 Click here to view Menu