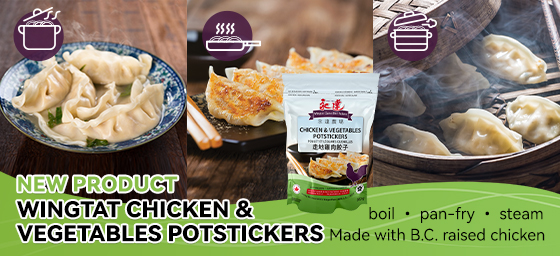 We are proud to launch our new product: Wingtat Chicken & Vegetable Potstickers! That's right! We finally have potstickers we can call our own — filled with BC's Wingtat Chicken meat (Wingtat Taiwanese Chicken meat). We are delighted and honored for the opportunity to pair our signature chicken with potstickers ; simple food that families enjoy as a quick snack, appetizer or prepared as a meal! Boil in your favorite chicken broth then add some veggies, or if you desire them with a crisp & crunch factor, then pan-fry or air-fry is the way to go; don't forget to drizzle some chili oil on top. Or simply steam the potstickers and dip lightly into your custom mix of soy sauce. Please continue to support our local poultry and food manufacturing sectors in British Columbia.

Wingtat Chicken & Vegetables Potstickers can be purchased at the following locations:


Happy Farm Market (Vancouver)
Teng's Market (Vancouver)
Jumbo Supermarket (Burnaby)
King's Market (Burnaby)
Nanyang Supermarket (Surrey)
New Pacific Supermarket (Coquitlam)

Rice World Supermarket (Richmond)
Blundell Market (Richmond)
Happy House Fresh Taste Meats (Richmond)
Luniu Market (Richmond)
New Empire Supermarket (New 2000) (Richmond)
2000 Supermarket (Richmond)




Stay tune to upcoming news on Christmas Lucky Draw, for a chance to win Wingtat Chicken & Vegetables Potstickers to try!

As the weather gets cooler in the Autumn, preparing a warm and healthy meal with Wingtat RWA (raised without the use of antibiotics) Chicken Value Packs is easier than ever. Pair our chicken with Autumn's harvest produce. Conveniently packaged and easy to prepare, there is endless list of simple, nutritious meals for you and your family to enjoy everyday.


Raised without the use of antibiotics (RWA)
Available in BC and AB at T&T Supermarkets instore
(Wingtat's line of RWA Chicken products is also sold via
T&T Supermarket's Online Store)



For more info on Wingtat RWA Chicken, please click here.

To view our collection of Wingtat RWA Chicken Recipes, please click here.

Partridge is a game bird known for its therapeutic value. It is good for trachea and the whole respiratory system. This soup is nourishing and restorative in the Fall while the air is dry. Fritillaria and sea coconut added in the soup can further enhance its therapeutic effects. The figs and dried tangerine peel make this soup fragrant and delicious, and the whole family can enjoy it.


People tend to have itchy throat or occasional cough during autumn and winter seasons due to the dry weather condition. One of the best ways to alleviate these symptoms is to have some homestyle soups. This soup recipe contains quail that is delicious yet nutritious, sea coconut and apricot kernels are good for keeping the lungs healthy, and pear is especially suitable for autumn and winter season. According to "本草通玄", an ancient Chinese herbal encyclopedia, pear can help nourish our lungs. This soup is suitable for all members in the family and is a must try during autumn and winter.

To view our collection of Autumn Soup Recipes, please click here.


Wingtat shares Instagram pictures of delicious dishes prepared with Wingtat Poultry Products, made by home chefs and IG influencers for everyone to enjoy. Give them a "Like" if it is a dish you would enjoy; and visit our Wingtat Instagram page, www.instagram.com/wingtatcanada and click "Follow" to support and be up to date with Wingtat!

Easy Chinese Air Fryer Soy Sauce Chicken Thighs
Content Creator: @instanomss

For more recipes shared by our IG community, please visit: https://www.instagram.com/wingtatcanada/tagged/

If you have or sign up for an Instagram account, remember to share photos of your creations to us by tagging @wingtatcanada or #wingtatchicken.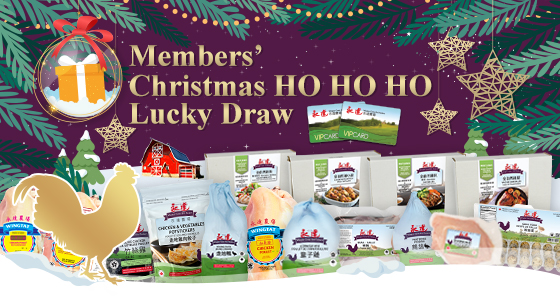 More details on upcoming Wingtat Members'「HO HO HO Lucky Draw」will be coming soon later in November, please stay tuned!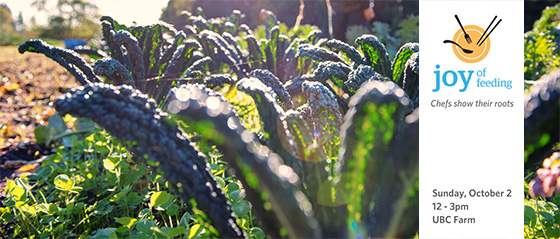 Wingtat sponsored "JOY OF FEEDING" event held at UBC Farm on Oct. 2. 12 local chefs from some of Vancouver's most beloved restaurants attended and prepared prepare their favourite family recipes in the organic farm fields. This outdoor food festival and fundraiser is for the food literacy and sustainability programs at the Centre for Sustainable Food Systems at UBC Farm and Chefs' Table Society's future Culinary Centre, a multi-faceted hub bringing culinary heritage and educational resources to professionals and the public. Local chef Regina Lee had use Wingtat's RWA Boneless Chicken Legs for her dish, Singapore Chicken Satay. The skewers of chicken meat, marinated in an aromatic spice mix, grilled over charcoal fire and dipped in a herbaceous peanut sauce, eaten with rice cakes, cucumbers and onions made Regina's tent one of the most popular chef stations at the event.

Click below to listen to Gloria Macarenko's interview with two of the "Joy of Feeding" chefs, Meeru Dhalwala and Regina Lee:
「On The Coast with Gloria Macarenko」

Play Segment
Event Photos:
| | |
| --- | --- |
| Satay Skewers On Wooden Board | Chef Regina Lee At Her Food Stand |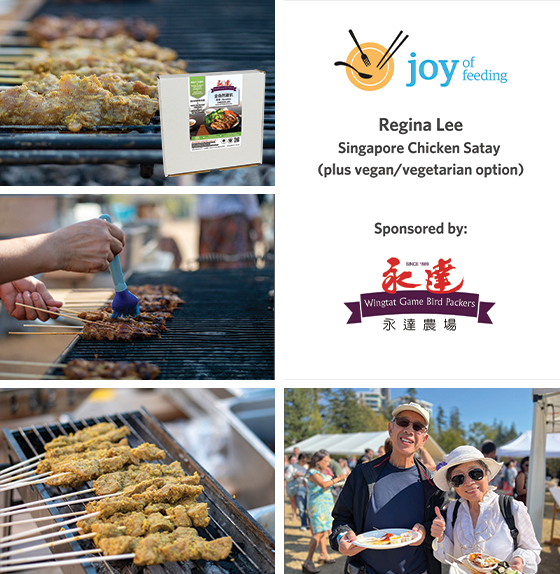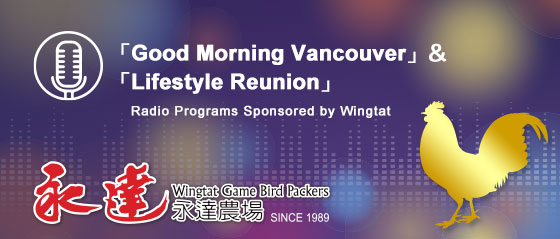 ​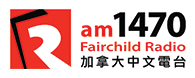 From Monday to Saturday tune in to Wingtat sponsored Radio Program「Good Morning Vancouver」and 「Lifestyle Reunion」 on AM1470.
「Good Morning Vancouver」- Broadcasting Time: Mon-Fri 6am-8am
Start your day with Vancouver's beloved radio and television host William Ho! He brings you the latest news in entertainment, current events, movies, lifestyle, and fantastic music every morning.


​

「Lifestyle Reunion」- Broadcasting Time: Sat 9am-11am
Mrs. Bernice Taam will recommend delicious recipes in "Cooking Up to You" aired in the "Lifestyle Reunion" program.