3 lucky Members will each receive an exclusive gift package consisting of

Wingtat RWA Chicken Value Pack Series (a total of four products), Specialty Chicken & Wonton House Gift Certificate and Mrs. Chiu's latest Recipe Book, written for BC Children's Hospital Miracle Weekend 2021.

To enter for a chance to win the lovely gifts, simply fill out the form and submit it before Sunday September 26th, 11:59PM.

No purchase necessary.

The winning Members will be contacted by phone on Monday September 27th to arrange picking up the gifts on Thursday September 30th or Friday October 1st. Friendly Reminder: winning Members are reminded to bring along their Membership Card to receive your prizes and are required to wear a mask upon entering our office. Thank you for your understanding and cooperation.




---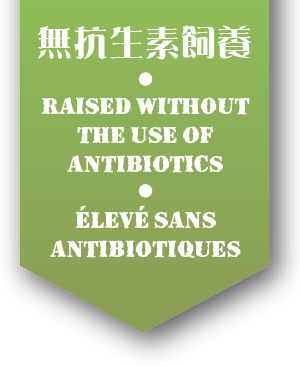 For more info on Wingtat RWA Chicken, please click here.

To view our collection of Wingtat RWA Chicken Recipes, please click here.

Sweet Osmanthus is made by mixing dry Osmanthus and honey. It's mainly use for adding the flowery fragrance to dessert. For example, Sweet Osmanthus dumplings, sweet Osmanthus stuffed lotus root, etc. Using an appropriate amount of sweet Osmanthus when cooking Free Run Chicken, will give you a delightful surprise. Ginger can help relieve gas and promote better blood circulation. Pan-fry the ginger until fragrant, add in tender Free Run Chicken, then pour in the sweet Osmanthus cooked along with the remaining chicken sauce to complete this delicious dish which everyone will enjoy!

Chayote is a type of vegetable that can be grown in the backyard. Chayote not only can be stir-fried, it can be also used to make soup. Since it tastes slightly sweet and delicious, chayote pairs very well with quail to create a tasty soup for the family.

| | |
| --- | --- |
| Sep 24th 2019 Silkie Chicken Leg and Pepper Soup | |
| Sep 20th 2019 Peach Resin and Egg Drop Dessert | |


Wingtat shares Instagram pictures of delicious dishes prepared with Wingtat Poultry Products, made by home chefs and IG influencers for everyone to enjoy. Give them a "Like" if it is a dish you would enjoy; and visit our Wingtat Instagram page, www.instagram.com/wingtatcanada and click "Follow" to support and be up to date with Wingtat!

Black Truffle Steamed Chicken

For more recipes shared by our IG community, please visit: https://www.instagram.com/wingtatcanada/tagged/

If you have or sign up for an Instagram account, remember to share photos of your creations to us by tagging @wingtatcanada or #wingtatchicken.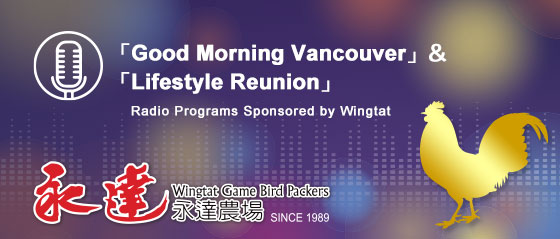 ​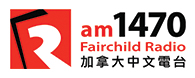 From Monday to Saturday tune in to Wingtat sponsored Radio Program「Good Morning Vancouver」and 「Lifestyle Reunion」 on AM1470.
「Good Morning Vancouver」- Broadcasting Time: Mon-Fri 6am-8am
Start your day with Vancouver's beloved radio and television host William Ho! He brings you the latest news in entertainment, current events, movies, lifestyle, and fantastic music every morning.


​

「Lifestyle Reunion」- Broadcasting Time: Sat 9am-11am
Mrs. Bernice Taam will recommend delicious recipes in "Cooking Up to You" aired in the "Lifestyle Reunion" program.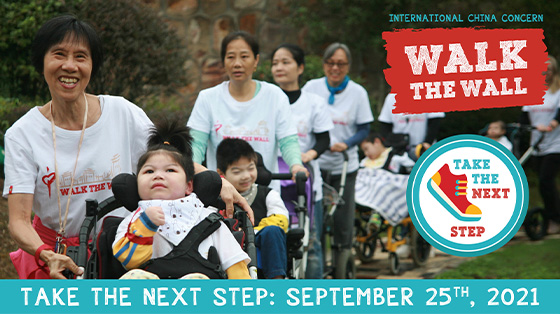 Walk the Wall is a global movement that comes together throughout the year to raise money for abandoned and disabled children and young adults in China, as well as families raising children with disabilities so that abandonment isn't their only option.

Wingtat continues our support as Silver Sponsor for "2021 Walk the Wall" event held by International China Concern. By participating in Walk the Wall on September 25, 2021 you are providing life-changing opportunities for thousands of young people.

Walk the Wall Canada 2021 will once again respect the current guidelines regarding large gatherings and encourage participants to walk individually or with a small group in their own cities using the WTW app. As you walk, you can track your progress in real time on our Great Wall map that is scaled to the distance of your walk. As you reach the watchtowers along the Great Wall, we'll be there to cheer you on, and the app will invite you to watch brief videos of the amazing children and families that you are walking for!
To show your support via donation, please click here: https://fundrazr.com/campaigns/WTWCanada2021/pay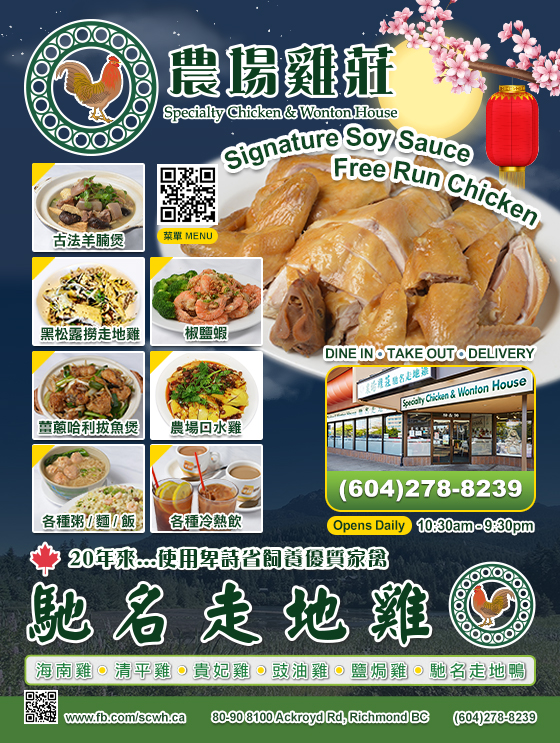 Specialty Chicken & Wonton House serves a wide selection of food for both our lunch and dinner guests. From our famous Free Run Chicken dishes, to congee and noodles in soups, to daily lunch specials and specialty dinner entrées, there is something for both the young and elderly.

Starting on September 13th, 2021, by order of the Provincial Health Officer (PHO), proof of vaccination is required to all people born in 2009 or earlier (12+) at licensed restaurants and restaurants that offer table service (indoor and patio dining). Diners should at least have one dose of a COVID-19 vaccine. By October 24th, 2021 diners would be required to be fully vaccinated. The requirement is in place until January 31st, 2022 and could be extended. SCWH will continue to provide takeout service (self-pickup) and customers can place orders through the Fantuan / DoorDash / Uber Eats delivery platform. Business hours are 10:30am-9:30pm every day. Thank you once again for your support!



Upon show of Wingtat Membership Card, Members enjoy 10% discount on take out orders (pick up order in person). Specialty Chicken & Wonton House Gift Certificates cannot be used in conjunction with membership discount; membership discount does not apply to any items under $10, and does not apply to delivery orders.

Should you have any questions or would like to place take out order, please call:
(604) 278-8239.


Click here to view Menu